Two
drug raids
Wednesday, one in Miami Lakes, Florida, and one in New Orleans, have resulted in the deaths of two men, one in each raid. Michael Ray Santana, 26, of Miami Lakes and Wendell Allen, 20, of New Orleans become the 14th and 15th persons to die in US domestic drug law enforcement operations so far this year.
In Miami Lakes, according to police, Santana was shot and killed after he confronted members of the Miami-Dade police Special Response Team, a SWAT-style outfit, serving a "high risk narcotics search warrant" at his residence. Police said officers knocked, announced themselves, and then went inside, when they were confronted by a man armed with a firearm.
Santana was the subject of the police investigation, and police said they found numerous firearms and a substantial amount of unspecified "narcotics" in the residence.
In New Orleans, according to police, Allen was shot in the chest and killed by a police officer serving a search warrant at a home where he was present. Officers from both the New Orleans Police Department and Jefferson Parish Sheriff's Department took part in the raid, but the identity of the officer who fired the fatal shot has not been made public.
Police made no mention of any weapons found.
New Orleans Police Superintedant Ronal Serpas said the house in the Gentilly district had been under surveillance for several days.
"Today, multiple narcotics transactions of a distribution nature were observed," he said, adding that a person who left the house was later charged arrested for intent to distribute "narcotics."
Serpa did not identify either the shooter or the dead man, and he didn't take questions during a brief press conference.
But a distraught woman at the scene of the shooting told the New Orleans Times-Picayune he was her grandson, Wendell Allen.
Allen's shooting was the second fatal police shooting in the NOPD's 3rd District in less than a week.
As people milled around the scene of the shooting, one woman screamed, "Lord have mercy! Why does this stuff keep happening?" Another shouted, "The policeman killed him. They killed my baby."
Allen had one arrest on his record, for possession of marijuana with intent to distribute. He was one year into a five-year suspended sentence when he was shot and killed.
---
They certainly weren't bothered when it was us that were being blown away.Just like with alcohol prohibition it takes a police body count before anyone actually realises people are dying.A man is awakened by a loud group of heavily armed men breaking into his residence and they want the death penalty because he defended his home.I have experienced several hard entry drug raids and until you're fully awake(they come very early in the morning)it could be someone coming to rob or kill you.This is doubly true for drug traffickers.Of course drug traffickers get no respect and less allowance for fact.Those cops were ready to respond with deadly force.They entered with malice and ill will and were met with the same.The problem isn't tactics,although those are repulsive.The problem is with a drug prohibition that makes drug use worse with each passing year and everyone adapts.That is why you get a far more dangerous criminal when you escalate your tactics to a worst case scenario.What you get is a whole lot more worst case happenings.People have used drugs for thousands of years.They have been prohibited for one hundred.For the last 50 the problems are multiplying and respect for law and order(the police)has nose dived.This is only going to end one way.It's just a question of how many people,on both sides,have to die to get 'er done.
---
Time to Rethink Drug Raids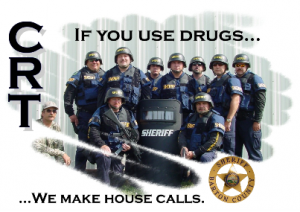 Some 68 law enforcers were killed by gunfire last year, 10 of them while serving search warrants or on multi-agency raids. While only three of them died doing work directly related to drug law enforcement -- two US Marshals were shot and killed in separate raids trying to arrest drug fugitives and one Florida police officer was killed trying to search suspicious persons for drugs -- the bloody Ogden raid has focused attention on drug raids.
In that raid, aimed at Matthew Stewart, an Army veteran with no criminal record who was supposedly "self-medicating" with marijuana he grew himself, a local drug task force forced its way into his home only to be met with ferocious gunfire. When the bullets stopped flying, Ogden Officer Jared Francom was dead and five of his comrades and Stewart were wounded. Prosecutors said this week they would seek the death penalty for him.
But that won't bring back Officer Francom, and police need to reevaluate their tactics, said Pat McCarthy, who advises police agencies across the country.
"The days of knocking down doors in drug cases should be over. Given what's going on now, you have to consider other options," McCarthy told USA Today. "Police should focus on trying to lure suspects out into the open or just "wait them out," he said. "It's time to change our thinking, Cops are exposing themselves to increasing danger many times over, and it's just not necessary."
That sentiment was echoed by Harvey Hedden, executive director of the International Law Enforcement Trainers and Educators Association. Its members need to "look at everything" to avoid putting themselves in danger.
"Police work can be 99% boredom and 1% panic," Hedden said. "Routine can be the most dangerous of all. We need to go back to the basics."
The Justice Department will host a meeting later this month with researchers and law enforcement officials to review tactics and training in the wake of the officers' deaths.
Of course, it's not just police who died in drug raids. The Chronicle's tally of
domestic drug war deaths last year
includes 13 civilians who were killed by police in drug raids on residences.